Based in Raleigh, North Carolina, Golden Corral is a family restaurant chain specializing in a buffet dining experience with nearly 400 company-operated and franchise restaurants located in 42 states serving approximately three million guests each week.In 1971, James H. Maynard and William F. Carl conceived the idea that became Golden Corral. From the time the decision was made to enter the family steakhouse business, the groundwork began to improve family dining in America. The concept was simple: "Making Pleasurable Dining Affordable." The first Golden Corral restaurant opened on January 3, 1973, in Fayetteville, NC. Within three months, the company was opening a second location in Raleigh, NC, and a third was built a short time later in Fayetteville, NC, becoming the second location within this city.
Golden Corral initially offered a menu consisting of steak and entrees, baked potato, and side salad. After enjoying a successful first decade, Golden Corral reinvented itself from a budget steakhouse concept to a full buffet. This offers guests a wider variety of healthy, tasty menu options. Golden Corral successfully implemented this change while still providing guests with a real, honest value in dining.
Golden Corral's offering today is comprised of approximately 300 buffet items including meat cut in-house and grilled to order; a variety of hot vegetables and casseroles; an expansive salad bar and fresh fruit assortment; diverse ethnic food stations; and a decadent bakery and dessert café with several "no sugar added" options. Most food is prepared from scratch with on-site bakers, butchers, prep and cooks who prepare food in an open atmosphere in front of their guests. In concert with our "making pleasurable dining affordable" mission, maintaining affordable pricing for our guests is paramount.
From the beginning, growth has been a constant for Golden Corral. Our restaurants do not look the same as they did in 1973 and our menu has expanded, but we continue to offer our guests tasty food at a great value served by friendly Co-workers. Job opportunities are provided to approximately 25,000 individuals system-wide.
Our Mission and Beliefs
Our Culture
Our culture rewards the talent and contribution of our people. We never stop striving to improve and we recognize that all of our accomplishments and success of our business is a direct result of the hard work of our talented managers and co-workers. We value integrity, a strong work ethic, drive, and a sense of hospitality. People truly are our most important resource and rewards are unlimited.
Our Vision
To be the leader in family dining by making pleasurable dining affordable for every guest, at every restaurant, every day.
Our Mission
"Making Pleasurable Dining Affordable"
The best is what we're all about… That's a direct tribute to the men and women who work here, pooling their resources and talents to create an affordable dining experience for families across America. Whether you're directly serving a guest or helping those who do, you'll find this is not your ordinary restaurant opportunity. Yes, we work hard, but there's a lot of fun and energy throughout all of our restaurants. Individuals who take great pride in a job well done and ensuring our guests receive only the best.So, we look for people with talent, commitment and passion to do what they do best — serve our guests or support those who do. And in return, we provide the recipe for a successful future.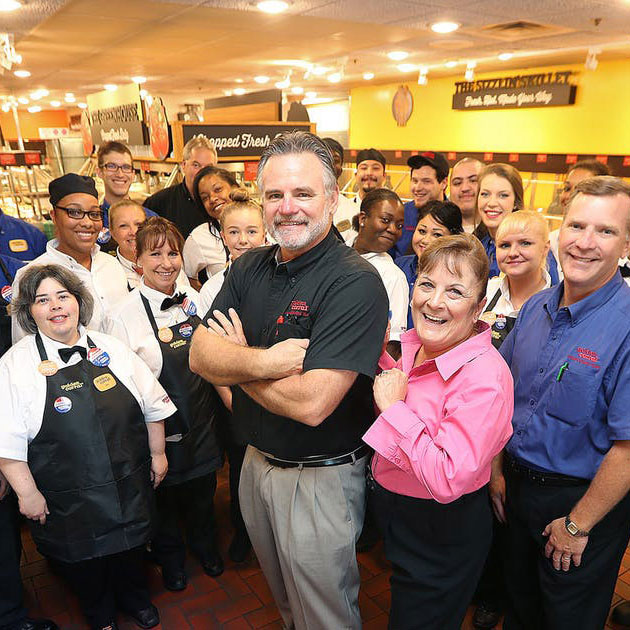 Our Beliefs
We build our business on service to others.
We treat customers as we would guests in our homes.
We strive to always provide value that is unequaled.
We value the diversity of our employees, franchisees, guests, and suppliers by demonstrating respect for the individual and providing meaningful work opportunities.
We foster the betterment of our people by promoting education, strong work ethics and investment in personal growth.
We promote good health, high personal integrity, the free enterprise system, good citizenship, and personal ownership.
We are proud of the total product we offer our customers, strive to be the best in class and we are relentlessly committed to insure the standards are met.
We never stop striving to improve.
We are honest in all that we do.
We remember to give thanks to God for the opportunities given to us.
Guest Commitment
"To be a place where the genuine care and satisfaction of our guest is our greatest purpose."
Diversity
At Golden Corral, we value the diversity of our employees, franchises, guests and suppliers by respecting the individual through communicating and providing a meaningful, inclusive environment where everyone has an equal opportunity to be successful and productive.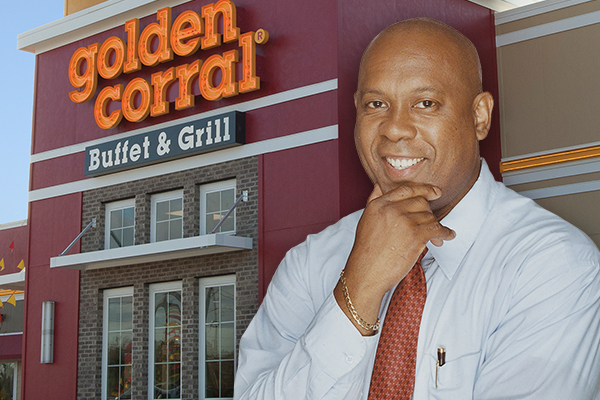 Community Involvement
We Build our Business on Service to Others…
At Golden Corral Corporation, we believe in the importance of "giving back" to local charities, schools and non-profit organizations in support of our local communities. This spirit is not only felt at the Company Support Center in Raleigh, NC, but is a driving force in each of our restaurants in the way they do business.
Annually, our restaurants pay tribute to our military by hosting MILITARY APPRECIATION NIGHT where we serve "thank you" dinners to active military personnel and veterans and raise money to support the Disabled American Veterans (DAV). Additionally, Golden Corral raises funds for CAMP CORRAL, an all-inclusive, fun filled summer camp for the children of wounded or disabled military families, at no cost to them. We also support the National Restaurant Association Educational Foundation's PROSTART program on a state and national level.
Golden Corral also supports numerous local, state and national charities in areas such as children's interest, education, hunger, and medical research. Click HERE to learn more about Golden Corral's community giving in support of our military.
GC Cares Assistance Fund
Golden Corral Corporation established GC Cares, Inc., whose mission is to assist employees of Golden Corral Corporation, franchisees, and employees of franchisees who experience an emergency situation which causes a temporary financial hardship and to help them within a very short period of time. Financial assistance is intended for those in severe financial need and who lack the necessities of life as a result of an unforeseen tragedy, natural disaster, extended illness, or catastrophic event beyond their control. The GC Cares Assistance Fund provides a resource for members of our Golden Corral family to care for company and franchise employees during times of their greatest need.
We are proud of Golden Corral's caring spirit for others as demonstrated by the support of our team members.
We face challenges in our businesses every day, but what makes Golden Corral so unique and incredibly special is the way we come together when circumstances are toughest. When we work together to support one another, we make Golden Corral stronger as an organization.
Donations — GC Cares, Inc is a 501(c)(3) non-profit and 100% of donations go directly to Golden Corral franchise and company employees in need of support.
If you are a Golden Corral Corporation employee and would like to donate by payroll deduction, please contact GCCARES@GOLDENCORRAL.NET.Employees In Need — GC Cares Assistance Fund. If you are in need of support, please submit the application to the attention of GC Cares Assistance Fund, PO Box 29502, Raleigh, NC 27626, Fax: (919) 881-4577 or email to GCCARES@GOLDENCORRAL.NET.. Application forms may be accessed in either ENGLISH or SPANISH versions, which detail eligibility and criteria for grants.
Qualifying Events:
Assistance may be provided to those experiencing severe financial need or uninsured expenses. Examples of events considered as qualifying for assistance from the GC Cares Fund include, but are not limited to the following where all other sources of funding have been exhausted:
Housing Disaster: Urgent or extraordinary expenses as a result of a catastrophe, natural disaster (i.e. flood, fire, tornado, and hurricane) or accident to a primary residence.
To prevent homelessness and/or provide for basic needs such as food, utilities and childcare when an employee is unable to work or meet these basic needs due to an unforeseen emergency situation.
Death of an employee or an employee's immediate family member: Expenses related to an untimely or unexpected death of an immediate family member (spouse, child, or parent). Grants are intended for travel and funeral-related expenses.
Through your donations no matter how large or small, we can truly make a difference together.
Celebrating Success
The Jacksonville, NC, restaurant led by General Manager David Miller and operated by the Platinum Corral team of Franchisee Billy Sewell, Area Manager Travis Strickland, Training Director Tim Martin, and Staffing Director Jeff Lepper were honored as the "best of the best" with the #1 Operational Excellence Diamond Restaurant-of-the-Year award during the Celebration of Operational Excellence awards ceremony. The ceremony was held on Monday, October 7, during the Golden Corral Convention and Trade Show in Nashville.
"David and his Jacksonville team have mastered rolling with the changes required to stay relevant in the industry and dealing with external challenges," says Darryl Webb, Sr. Vice President of Operations.  "David's calm and confident leadership allows the team to be prepared for anything that comes their way but also allows them to focus on opportunities."
In the last year, Jacksonville weathered two hurricanes but proved their dedication to the community by being the only local restaurant that stayed open. They fed the first responders and power crews who were in town to aid in storm recovery. This commitment led to a 12% increase in sales over the last thirteen periods.
"Following the devastation of Hurricane Florence last year, our team really won over the hearts of our community by providing free meals and delivering food to people in need," says David. "This outreach created raving fans of our guests through this personal connection."
Their positive impact on the community isn't limited to time of crisis. They host a multitude of events such as the annual Angel Tree Breakfast with Santa, and school supply drives.
David and his team were one of the first to embrace the off-premise challenge and have enjoyed growth by catering events for the County Hospital, weekly lunches at private schools and more. Additionally, Jacksonville serves as a training restaurant and David is a valuable member of the Product Development Group.
"We truly embrace a culture of hospitality by building individual relationships with our guests," comments David. "We never let anyone leave the restaurant without resolving an issue, which resulted in only 1.9% InMoment 1s and 2s. Most importantly, we treat our employees like family and ensure everyone feels a part of the team."
The 2nd place Operational Excellence Diamond Restaurant award was presented to the Lexington, NC, restaurant led by General Manager Gerald Cain and operated by Franchisee Billy Sewell. The Anchorage, AK, restaurant, led by General Manager Rusty Beamish and operated by Franchisees Tom and Doreen Barrows, earned 3rd place overall and Franchisee Mike Slentz was honored in 4th place for his Tifton, GA, restaurant.
During the awards ceremony, Stephen Karos was named the District Manager-of-the-Year for the third consecutive year. Chris Henderson, Jane Streff, and Ben Falsafi were named the Franchise Business Consultants-of-the-Year for their respective divisions.
In addition to these awards, franchisees and operators were honored for their achievements with awards in the following categories: Gold Restaurant, Employer of Choice, Community Involvement, Top Food Safety and Sanitation, White Glove, Top Sales Volume and Growth, Top Meal Count Growth, and Top ROC.
Video: GC Cares Assistance Fund
Video: Purpose and Commitment
Video: Operational Excellence – Creating the Feeling
Video: Passion and Outreach